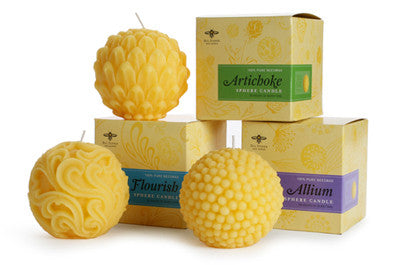 Artisan Beeswax Candles - Flourish and Allium
Regular price $14.00 USD Sale
Enjoy the natural honey fragrance of 100% beeswax candles, a renewable source that cleans the air with negative ions. Lit beeswax candles have been scientifically shown to reduce dust, pollen, and allergens in the air.
Beautiful as well as useful, this intricately sculpted, hand-cast sphere casts a luminescent glow through its unique design.
No artificial ingredients or scents. 4" high. Burns for 50+ hours.
Two styles (sold separately): Flourish and Allium. Click on the pull-down menu to select the styles you want.